THE ECONOMY OF BEAUTY
There is always a reason for doing things

There is always a reason for doing things. In our case, the decision to finance, all together, the restoration of Perugino's altarpiece, is the "seal" of a friendship between the members of Accademia della Tacchinella and the local community, as well as an expression of culture, beauty anddeeply-felt values. The enterprises of this group of friends who enthusiastically committed to this project are located in different...
...municipalities in our province. This is an added value to the initiative as it stresses a vision and willingness that go beyond local borders, beyond a parochialism that sometimes is a limit and a pretext hindering a wider and more integrated mindset that is required for development. Another reason deals with feelings, with the passion for "doing", with the emotion that leads to "creating" and fostering the economic as well as spiritual and moral growth of a Community. This is something lying in the heart of every entrepreneur, something inherent in the way of experiencing and interpreting one's business.
We do support this "economy of beauty", intended as an expression of values that are deeply rooted in ourselves and in the local areas in which we live and work, producing not only merchandise but also the common good, beauty and culture.
We believe that businesses should be proactive cultural subjects, capable of generating profit in its broadest meaning: useful to all. This restricted, close-knit group of people, passionate entrepreneurs, believe that work should be intended as a search for one's qualities, as a therapy against bewilderment, as the possibility to create a better future, as a duty, but also as the foundation for a moral pleasure.
"Together" is another word that made the difference: this project would not have been possible with individual resources. Being and doing things together, acting as a real team, sharing pleasures and passions: all this allowed us to join forces and reach such a goal.
We are experiencing a challenging economic scenario, sometimes we are struck by a desperate feeling of uncertainty and by the fear of tomorrow. We strongly believe that initiatives like this one can help rebuilding confidence, esteem and hope for our future.
We wholeheartedly hope so.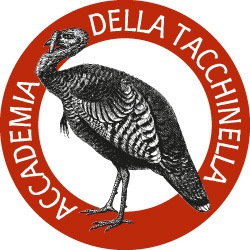 ACCADEMIA DELLA TACCHINELLA
Tonino Dominici, Giuliano De Minicis,
Armando Elisei, Giovanni Fileni, Genuino Galassi,
Sandro Paradisi, Giovanni Rocchetti, Giovanni Tesei,
Valentino Valentini, Giovanni Zannini
back
SUBSCRIBE TO OUR NEWSLETTER